Verizon Community Forward Center Opens at CCAC's Homewood-Brushton Center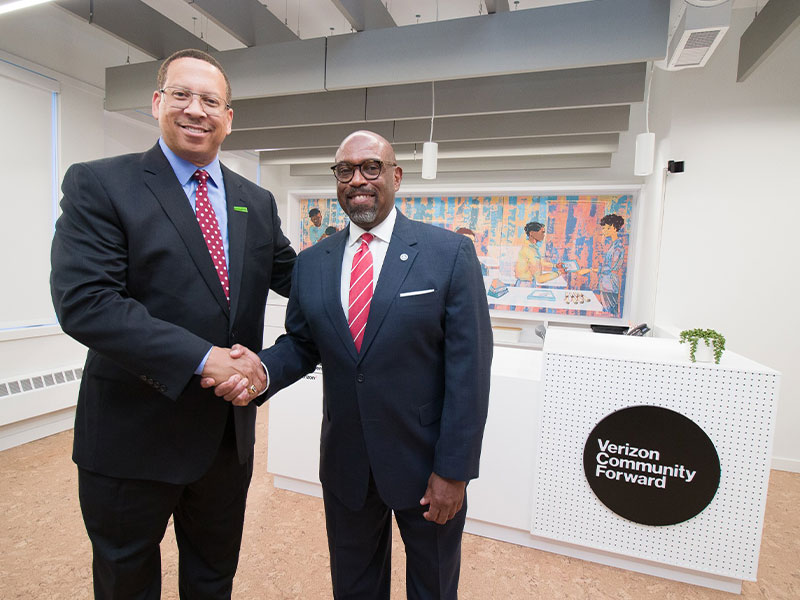 This week's Neighborhood Allies and Verizon opening of the new Verizon Community Forward Homewood-Brushton Adult Learning Center at the CCAC Homewood-Brushton Center featured on WPXI-TV
Students in the Homewood neighborhood and surrounding areas will have access to new cutting-edge technology for enhanced STEAM (Science, Technology, Engineering, Art and Math) learning and career development opportunities through the Verizon Community Forward Homewood-Brushton Adult Learning Center located at the Community College of Allegheny County (CCAC) Homewood-Brushton Center. This center was created by Verizon in partnership with Neighborhood Allies to help bridge the digital divide, providing more people in under-resourced Pittsburgh communities with access to technology and digital skills training in an increasingly digital world.
"We are appreciative of the partnership with Neighborhood Allies," said Dr. Evon Walters, President of CCAC's Northwest Region. "Verizon's investment and partnership with Neighborhood Allies bolsters the collective, unwavering commitment in ensuring equitable access to the region's emerging and high-demand STEAM careers. It is about inspiring learning while expanding credentialing opportunities in preparing our community's learners."
"Neighborhood Allies is excited to deepen our partnership with the CCAC Homewood-Brushton Center, a trusted and innovative community anchor that will now house new learning pathways for adults looking to enhance their digital skills and seek workforce opportunities in STEAM fields," said Neighborhood Allies President and CEO Presley Gillespie. "Through Verizon Community Forward, we are able to continue working towards bridging the digital equity gap in Pittsburgh and creating healthy neighborhoods of opportunity for all. We could not have achieved this without our many valued partners, including those at the Homewood Children's Village, University of Pittsburgh Community Engagement Centers, and the Homewood-Brushton YMCA."
This is the second of two centers to open in Pittsburgh as part of Verizon Community Forward, which aims to reinvigorate community spaces in cities across the country, providing access to free resources and enhancing hands-on learning with cutting-edge technology. Pittsburgh was selected as one of four pilot cities for the program, and the first center, located in the Homewood-Brushton YMCA, officially opened in May 2023.
Neighborhood Allies' partnership with Verizon also includes supporting STEAM and digital skills programs at the University of Pittsburgh Community Engagement Center (CEC) in the Hill District and the Homewood Children's Village. Participants in those programs will utilize the new Verizon Community Forward Homewood-Brushton Youth Learning Center in the Homewood-Brushton YMCA. Over 8,000 participants have been served through the two Pittsburgh locations since 2021.
Click here to see WPXI news coverage of the grand opening event