CCAC Student Cancer Experiment Begins Journey to the International Space Station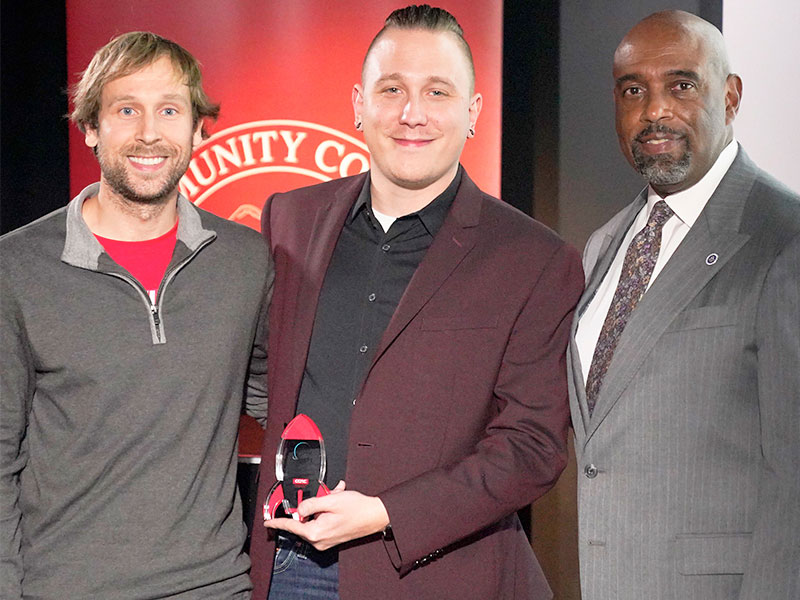 A research experiment created by two CCAC students began a journey into space on Nov. 9, 2023, at 8:28 p.m. The Space-X 29 rocket launched from Cape Canaveral with a payload of experiments, including one from CCAC. Dr. Justin Starr, CCAC endowed professor of advanced technologies and coordinator for the college's participation in the SSEP competition, joined the students' mentor, CCAC Assistant Professor of Mechatronics and Entrepreneurial Manufacturing Francis Cartieri, in Florida for the launch.
Jason Gomes, a student in CCAC's Biotechnology program, and Daniel Roth, a student in CCAC's Respiratory Therapy program, submitted their winning experiment titled "Microgravity's Effects on the Activation of Dormant Metastatic Cancers" as part of the international Student Spaceflight Experiments competition in 2022. The experiment examines the effects of exposure to microgravity on cycles of cancer cell proliferation and/or dormancy, and will help determine if space travel accelerates cancer formation in astronauts. Moreover, if the experiment reveals that microgravity has a significant impact on the dormancy/proliferation cycle, this would indicate that physical cues in a cell's environment could be much more important than previously suspected in the activation of cancer cells and should therefore be prioritized in future cancer research.
Sponsored by the National Center for Earth and Space Science Education in the U.S., and the Arthur C. Clark Institute for Space Education internationally, the Student Spaceflight Experiments Program invites students from selected colleges, universities, school districts and organizations worldwide to develop research experiments to promote space education.
Teams of CCAC students from various academic disciplines competed in fall 2022 to design and present unique microgravity experiments, one of which would be selected to be sent to the International Space Station. In late November 2022, a national review board assembled by the NCESSE selected the winning CCAC project, which launched on Nov. 9 to travel to the International Space Station.
CCAC was invited to participate in the 2023 SSEP competition as one of only three 2-year colleges selected out of 38 organizations worldwide. Local expert judges and NASA Astronaut Woody Hoburg selected three CCAC team experiments on Nov. 7 to go to the final round of national judging.