Career Spotlight: Alysse Dambrot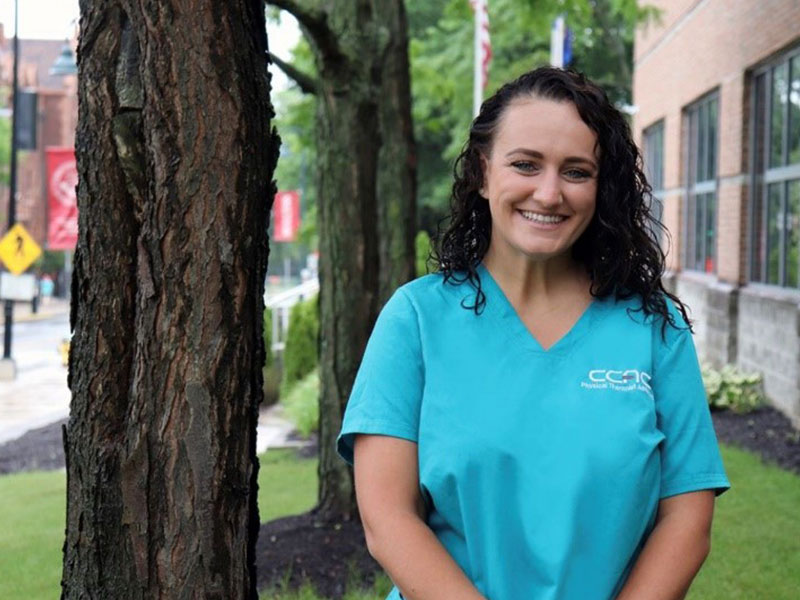 Please provide a bio about you. Include your name, what you studied, where you attended school and campus (ex: CCAC-North) and what year you graduated. Tell us anything here you'd like us to know about you!
Alysse Dambrot previously attended a four-year university and earned a Bachelor's Degree in Exercise Science Pre-Physical Therapy. After not getting into PT school as she had always dreamed of, she decided to pursue a Master's in Business Administration. Alysse worked for several years in jobs that she loved, but did not feel that she was following her passion. She decided to go back to school to give the career she was truly passionate about a second chance. Alysse attended the Boyce campus as a student of the Physical Therapist Assistant program and graduated in May 2022.
How did you choose your major? What motivated you to choose that field/profession?
When I was in high school, I tore my ACL playing soccer. I went to physical therapy for nearly a year and the therapists there went above and beyond to get me back to playing the sports I loved. It was a challenging recovery, but with their support, I was able to play sports again. They inspired me to help others in the way that they helped me. From then on, I knew I wanted to work in the physical therapy field.
What did you enjoy about attending CCAC? Any memorable moment to share?
I loved the small class sizes and the family feel of the PTA program. My classmates and I were very close throughout the program and helped each other along the way. We bonded over study groups and community service events and encouraged each other through the challenging PTA program.
How involved were you at CCAC? Did you study abroad? Did you have internships or Co-Ops? Clinicals and/or practicums? Were you a part of any clubs, sports, or extracurriculars? (please list as much detail as possible).
I was very involved at CCAC. I completed four clinical rotations, both in outpatient and inpatient settings. I was the SPTA President for the class of 2022, through which I planned several community service events. Some of the events include Boyce Park clean-ups, Thanksgiving food drives to support the Churchill Wilkins Rotary Club, and clothing drives for Women's History Month. Additionally, I was a member of Phi Theta Kappa, Psi Beta, and served as a student representative on the Perkins Advisory Committee
Did any of these experiences lead you into realizing your passions for work and career? If so, how?
My clinical experiences through CCAC confirmed the passion I already possessed for the physical therapy field. It was a scary choice for me to go back to school after several years of full-time employment, but my experience in the PTA program allowed me to pursue the career that I am truly passionate about.
What (transferable) skills did you gain that you could take into a workplace?
The PTA program was very fast-paced and demanding, so it taught me great time management skills. In the clinical setting, it is essential to be able to multi-task and manage time effectively between patient care and detailed documentation.
What are you hoping to do next? What would you like to do professionally?
I am currently studying in preparation for my national licensure exam, which I will be taking in early July 2022. I am looking for a full-time job as a PTA where I can continue to learn and develop my skills as a new PTA.
What do you want prospective college students to know-what advice do you have for them?
Follow your dreams, even if you don't succeed the first time around. It's never too late to achieve your goals.
Who inspires you and why? Do you have any mentors or people of influence in your life?
My late grandmother has always been a woman who inspires me years after her death. Although she passed away when I was only 8 years old, she continues to be a person of influence in my life. She passed away from cancer at the young age of 65, but she accomplished so much in her short life. She was a women's rights advocate and was well-known in my hometown of Akron, Ohio as such. She helped found the Women's Studies program at the University of Akron where she worked. She founded the Women's History Project of Akron. She published numerous research articles on date rape and volunteered for the Rape Crisis Center. She also worked to improve education programs for women and minorities in the state of Ohio. Her last project of her life was to raise money to commission a statue of former slave, abolitionist, and women's rights advocate Sojourner Truth in Akron, Ohio, where she delivered her famous "Ain't I a Woman?" speech. Unfortunately, she passed away before the project was complete. My grandma continues to inspire me to be a fraction of the woman she was in her short life. In her honor, I have joined a group of hard-working and dedicated women who have picked up where my grandmother left off nearly 20 years later and we are working diligently to honor Sojourner Truth with a statue in Akron
Anything else you'd like for us to know?
CCAC is a pathway to success.