Career Spotlight: Chantelle Bellavance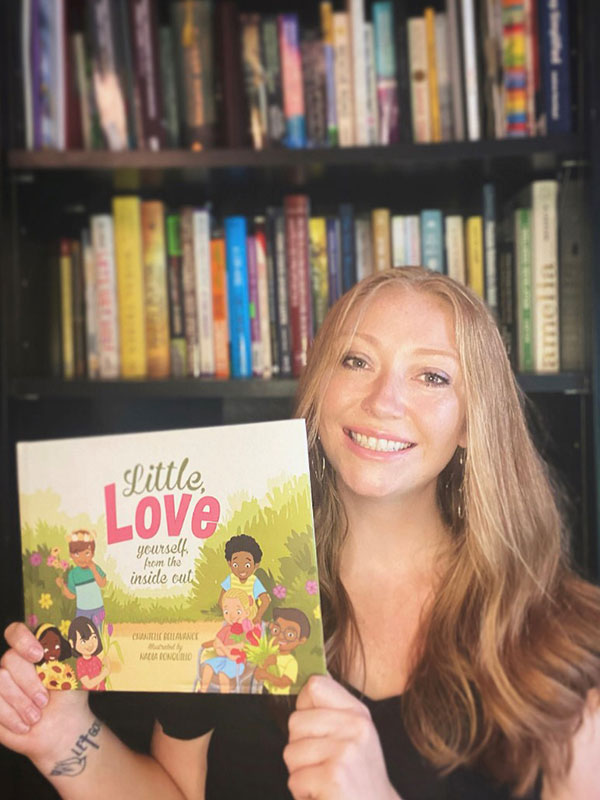 Please provide a bio about you. Include your name, what you studied, where you attended school and campus, and what year you graduated. Tell us anything here you'd like us to know about you!
Chantelle Bellavance is an alumnus and 2017 graduate of CCAC - South Campus. She studied Computer- Aided Drafting and Design, Engineering Science, and Math and Sciences. Chantelle is a children's book author, project manager, engineer, philanthropist, mentor, speaker, and telecommunications professional. She is the founder of the Bellavance STEM Scholarship that provides non-healthcare STEM scholarships to CCAC students. Outside of her professional career, she focuses on self-development and continuing awareness for those underrepresented in STEM fields. She is passionate about being a servant leader and providing the next generation with knowledge and opportunities to be successful. In her spare time, Ms. Bellavance enjoys outdoor adventure activities, cooking, reading, and spending time with her children and her golden retriever.
How did you choose your major? What motivated you to choose that field/profession?
I chose my major when I attended Penn State University for Petroleum and Natural Gas Engineering, prior to attending CCAC. I knew that I wanted to continue along the path of Engineering when I attended CCAC, and South campus provided the opportunities that I was looking for. Engineering is where art and science meet to solve the world's problems. From a young age, I was artistic, empathetic, and loved to build, create, and solve problems. I was an inquisitive child and my mother saw engineering as a potential career path. My mother enrolled me in extracurricular activities surrounding STEM at both Robert Morris and CCAC in my elementary school and middle school years. Engineering became a second nature career choice after high school.
What did you enjoy about attending CCAC? Do you have any memorable moment to share?
I had a wonderful experience at CCAC. I was a student work-study in both the Engineering department and Registration as well as a Student Admissions Ambassador for incoming students. I created the STEM Club at South campus and was involved in the Moms Attending College club. Since graduation, I have been invited back to speak multiple times on my experience at CCAC. Small classroom sizes, personable relationships with faculty and professors, affordability, and the ability to manage school while working made CCAC an obvious choice. CCAC helped to shape my career and provided me with opportunities that I didn't receive while at a large university. I hold my time at CCAC close to my heart and am grateful for the education and relationships I received through CCAC.
How involved were you at CCAC? For instance, did your studies take you to other countries? Did you have internships or Co-Ops? Clinicals and/or practicums? Were you a part of any clubs, sports, or extracurriculars?
I worked as a student work-study in both the Engineering department and Registration as well as a Student Admissions Ambassador for incoming students. I created the STEM Club at South campus and was involved in the Moms Attending College club, Student Government Association, and Bible Study.
Did any of these experiences lead you into realizing your passions for work and career? If so, how?
I saw a need for STEM students to be represented on campus. I wanted to provide students with the ability to network internally with other students and professors as well as externally with corporations and companies in the area. From this vision, the STEM club was born at South Campus. Upon graduation, I began working for a fortune 500 company. I have continued my education and have since received a Project Management Certification where I lead the work of a team to achieve all project goals within the given constraints. I am fortunate enough to work for a company where I can create projects to streamline work efficiency if I see a need to reduce waste.
What (transferable) skills did you gain that you could take into a workplace?
The transferable skills I gained, and took into the workplace, include adaptability, maintaining a positive attitude, collaboration, excellent customer service, ability to influence others, economic thinking, and the ability to drive results.
What are you hoping to do next? What would you like to do professionally?
Within the next 3 months I am looking to become a Project Manager. Within the next 5 years I would like to write more children's books, start a non-profit organization, and continue to grow new opportunities within the telecommunications field. I also plan to continue investing in stocks and venture into real estate.
How do you manage stress (most especially during these uncertain times)?
I manage stress by understanding the importance of community and my own shortcomings. Being able to see where I fall short allows me to leverage those close to me who excel in those areas. I speak to a mental health professional every other week, am involved in small groups at church, practice mindfulness, read my bible, and write out a to do list/words of affirmation every day.
What do you want prospective college students to know-what advice do you have for them?
I want prospective college students to understand their full potential, the importance of living a debt free life, and utilizing the resources they have while attending CCAC. I also want students to understand that a goal, without a plan, is just a dream. We steer where we stare. Each day the content we look towards on social media, those we hang around, the job we currently have, the way we perceive ourselves all play a role in who we are currently and who we are becoming. The consistency of the small choices make up the larger vision of your life.
Who inspires you and why? Do you have any mentors or people of influence in your life?
I have several friends and family who inspire me to be better. These individuals continue to push the status quo on what it means to be successful. I have had the opportunity to have mentors within the company I currently work for as well. These mentors have provided valuable insight and knowledge that is beyond measure. Some of my favorite people to follow include Anthony Oneal, David Ramsey, Adam Grant, Rachel Cruze, Kent Chevalier, Michael Todd, and Brandon Turner.
Anything else you'd like for us to know?
My children's book 'Little, Love Yourself from the Inside Out' is available at Target.com, Barnesandnoble.com, and Amazon.com.
Bellavance STEM Scholarship available through the CCAC Educational Foundation Scholarships.