Career Spotlight: Ashika Henry Richardson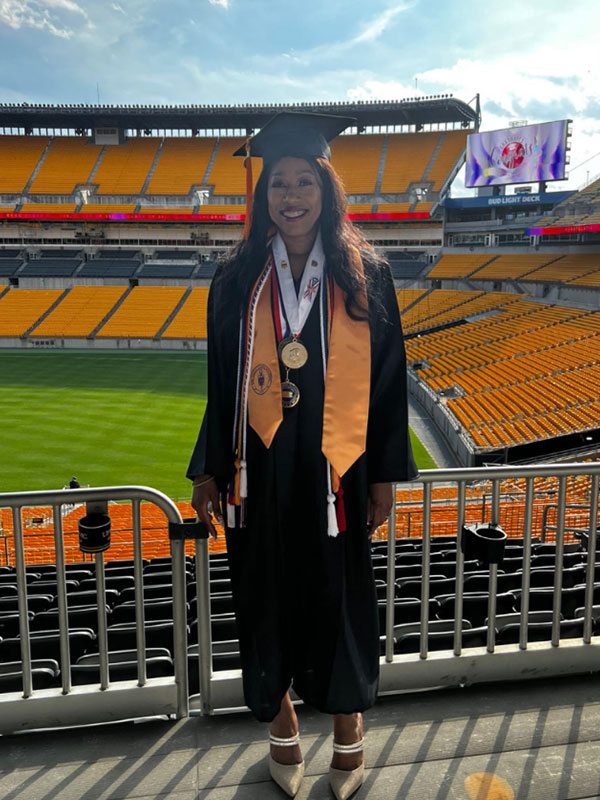 Please provide a bio about you. Include your name, what you studied, where you attended school and campus (ex: CCAC-North) and what year you graduated. Tell us anything here you'd like us to know about you!
Ashika Henry Richardson is a 2022 graduate who earned an Associate degree in Social Work Foundation. She graduated with highest honors and an honors degree. She is currently working as a Nursing Assistant and Honors Leadership Assistant Work-Study Student for the Honors program. She was also involved in a summer internship to complete her degree at CCAC. She started CCAC during the pandemic so school was mostly remote for her, but she took courses on all campuses and engaged in clubs at the Allegheny and North campuses.
How did you choose your major? What motivated you to choose that field/profession?
I chose my major by doing independent research and taking advice from CCAC advisors. I googled community colleges near me and CCAC was not only in my county, but also has great social science programs and an articulation agreement with other colleges/universities that I liked. I spoke to the advisors on a zoom meeting, and I told them I wanted to be a Psychology major. I am so happy I spoke with them before registering because I shared my strengths and future interests. The advisors told me that social work was a better fit for my career goals. I wanted a career that will help the vulnerable population, and to be an advocate for them. After I registered and started my classes, my passion grew more for my major. I am thankful to the advisors for helping me to recognize my true purpose.
What did you enjoy about attending CCAC? Any memorable moment to share?
I have many special moments from being so involved at CCAC, but I believe the most special ones were meeting the President of CCAC and the PA State Department of Education. I felt honored and special to have them listen to me talking about my life and college journey. My other moment was going hiking with the honors program and connecting in-person with my professors and honor students. It felt so good to go hiking, have great conversations, and to share laughter, especially during a pandemic. Recently, I had the opportunity to experience presenting at conferences and travelling out-of-state with the honors program.
How involved were you at CCAC? Did you study abroad? Did you have internships or Co-Ops? Clinicals and/or practicums? Were you a part of any clubs, sports, or extracurriculars? (please list as much detail as possible).
I am Student Government Senator for Allegheny campus, Vice President for Phi Theta Kappa (PTK) Alpha Lambda Nu Chapter, Secretary of the World Cultures and Veterans Club, Honor student and Leadership Assistant, Member of the Political Science Club, member of the Diversity, Inclusion & Equity group, and member of the JED College Group. Due to Covid-19 restrictions, my study abroad trip to India with the honors program was postponed, but I am able to attend it in 2024 as an alumni. I also did an internship with the Department of Human Services (DHS).
Did any of these experiences lead you into realizing your passions for work and career? If so, how?
Working as a Leadership Assistant for the Honors program led me to realize that I have all the qualities to guide the vulnerable population. I also realized that I am a servant leader and I work well with a team. I had a great team work experience with my LAs, and effective communication is a key factor in social work. The responsibilities of leading and mentoring other students made me more passionate about my career.
What (transferable) skills did you gain that you could take into a workplace?
I have gained interpersonal communication skills, public speaking, critical thinking, planning and organizing, and problem-solving skills. I learned all of these skills, and more, at CCAC. I will take them with me to CalU and throughout my career journey.
What are you hoping to do next? What would you like to do professionally?
I have been accepted at multiple Universities in Pennsylvania, but I chose California University of Pennsylvania (CalU) because it is a better fit for me. I recently won the All-PA Academic Team scholarship to complete my Bachelor's degree at any PASSHE four year college or university. I won't have to worry about the cost at CalU because I will receive two years of free tuition. I am also planning to do my Master's degree in advance standing and enter the work force both locally and internationally. As a future social worker, I want to serve people all over the world and not just in one country. I am Jamaican and love to explore and experience life in different parts of the world.
What do you want prospective college students to know-what advice do you have for them?
I recommend students to get involved in their college clubs and organizations as much as they can - you will gain academic and personal enrichment. Apart from scholarship opportunities, you can become a better leader and student, gain travel experience, and help your college community grow. Do not be afraid to ask for help, remember you are not on this journey alone, and others can relate to you. Utilize the school and community resources, after all, it is called a community college. Students, please check your academic emails every day and listen to the advisors and professors, they are the experts who want to see you succeed, and all your hard work will pay off!
Who inspires you and why? Do you have any mentors or people of influence in your life?
I am inspired by past students and I often read their stories on Facebook. I took the time out to be included in this spotlight because it is important. I have read stories about other single mothers like myself on PTK Facebook page, and it inspired me. I have classmates that I work closely with and each semester we inspire each other. When we achieve a small win, we kinda have to live in the present moment too. One classmate told me "I wanted to be just like you when I first met you." I told her she inspired me too because she has 2 kids, works, and gets straight A's in college at a young age. I listened to current students stories, and we empower each other. I have my mentors also. Dr. Christopher Robinson was my first social work professor. Even when he moved on to Penn State, I kept in touch with him, and he assisted me with finding transfer schools and wrote recommendations. Srujana Kanjula, professor and director of the honors program, pushed me out of my comfort zone and continues to ensure I succeed academically and personally. Michele Lee from the North Campus, Veterans Department, would sit and listen to any problems I had for hours without complaining, and she ensured all my academic needs are met. There are a few more who went above and beyond for me but just to name a few.
Anything else you'd like for us to know?
I have a story on wandering educators as well, linked below.